Project Overview
An ambitious project to completely redesign five digital platforms using a comprehensive design system created from scratch that also revamped brand for oldest Turkish bank.
R/GA team was divided into two groups. Customer Channel in charge of ATM and Mobile app and Staff Channel, responsible for Bank's Central Platform, Call Center and Ticketing Machine.
Deliverables: Central Bank platform, Call Center Application, Ticketing machine.
Product #1
Integro - Bank's Central Platform
Integro is the core of AKBANK's customer management. It is the tool that everyone in the bank uses to access customer information, from setting up a new credit card, to creating bulk transaction on behalf of merchants.
Our focus was to enhance the experience of relation managers that use the tool on a daily basis, as well as customers, who often get a glance of their accounts while they talk to a bank representative.
Integro was a platform created in the 90s. It didn't have any architecture, that is, none of the screens were connected in a logical manner. Our first obstacle was try to map out the current interface into a cohesive application where we could understand really complex banking functionality. There were not architectural maps so we had to rely on screenshots in a foreign language. Let's put it this way, by the end we were fluent in the language of guessing Turkish. Teşekkürler!
Defining Key Navigation & Journeys
We started by combining areas in the application and assigning a hierarchical structure. We bundle all Customer functionality into a separate area from the Relation Manager working area. Search was given prominence a shortcut to find customers and functionality that was not accessed through the main navigation.
Any other notifications and system functions was grouped with a new section called Tools, were staff could access calculators, calendars and other widgets without disrupting their work flow.
Wire-framing
Wires were created to validate functionality with the business. We used the user journeys identified earlier in the process as a guidance to further define the application. It became obvious quite early on that Customer Profile was the most complex area in Integro as it held multiple functionality, from editing mortgage applications, applying for a new card to editing personal details. We also experience some navigational issues. How to handle multiple customers was a key feature for new version of Integro, but it brought challenges such as Relation Managers getting confused with different open profiles.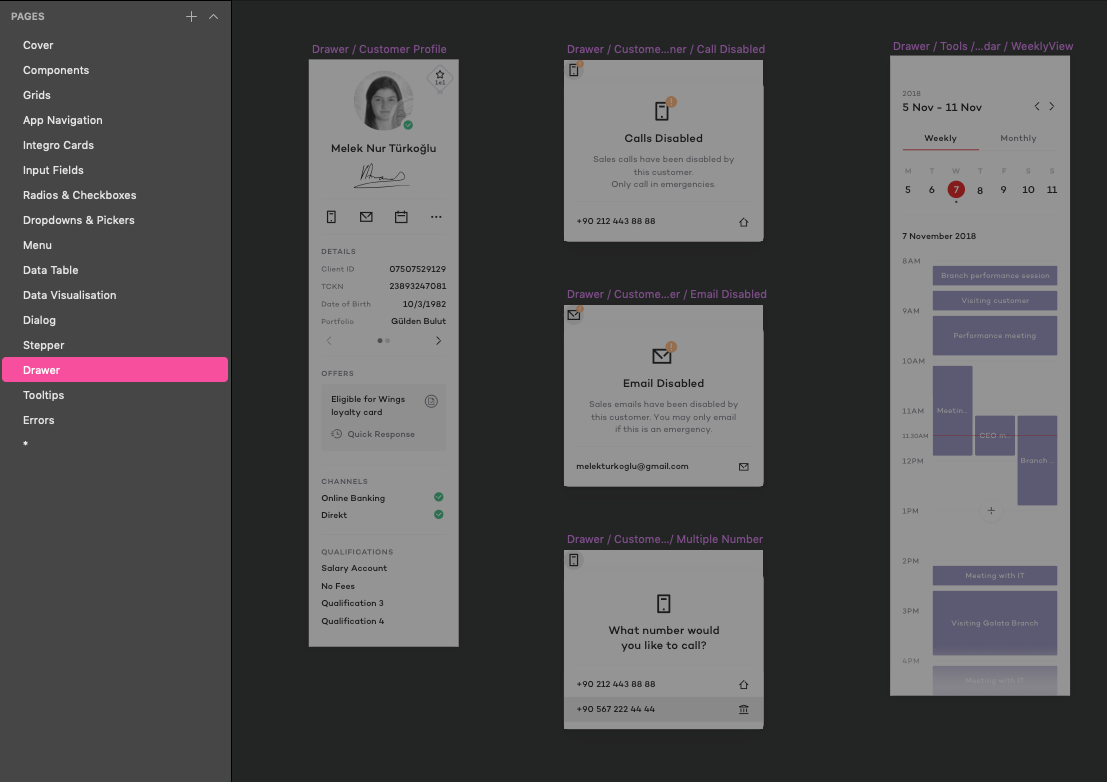 Throughout all the design process the team was designing and creating components to feed the design system libraries.
Every product like Integro linked to a Foundation library which held illustration, icons, colours and global design guidelines. Each product has its own library which feed from foundation's styles.
The result
A completely new application that helps staff members access information in a faster and more intuitive way.
Simplification
We simplified complex pages by using stickers, filters and motion
to make details easier to scan, find and read.