summary
Guidelines to optimise the making of voice overs in 19 different languages for future yoga programme in newly designed NTC app.
Deliverables: Voice over recordings and testing; Script analysis, Voice Over guidelines, prototyping.
While stitching the yoga videos and Voice Overs (VO) together, the team realised the sound and video didn't match. The timings were wrong and the Voice Over affected the yoga experience as sometimes the VO was too fast, left gaps, was inconsistent in naming poses or just simply sounded too robotic as it was computer generated.
The approach
Modified script and recorded narration using AKQA team members that were also yoga trainers.
Run rapid guerilla testing in AKQA offices, using a variety of audios and video modifications that gave us insights into how to put Voice Overs and videos together in 19 languages.
Findings from testing
I identified 8 overarching findings that guide the recording of Voice Overs for NTC yoga
Intros, Describing poses, simplicity and clarity, breathing, repeated drills, consistent language, tone & rhythm, length & timer.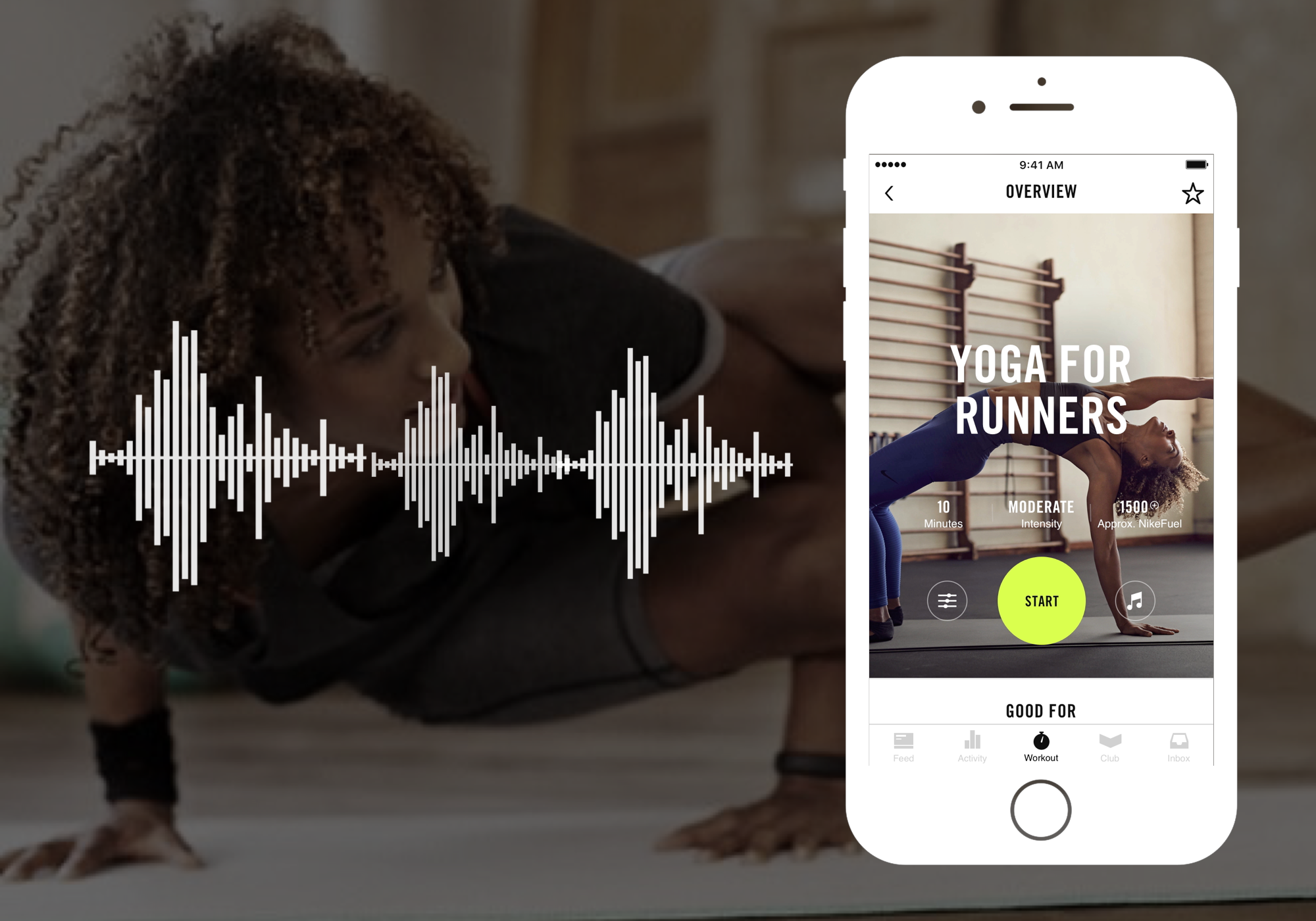 DESCRIBING POSES
User's rely on VO (voice over) to complete poses; often participants don't look at the screen as they might be in a pose that takes the away from it.
The instructions for moving into a pose should be different from those while participants are holding a pose. Holding positions can also have more variations to help users improve a pose, make it simple or more difficult for them.
SIMPLICITY AND CLARITY
While editing voice over we came across copy that wasn't consistent or completely clear for users.
e.g. Some transition are easy to miss; they happen too quickly or user might not be looking at supporting video. When marking a significant change of pose, consider using VO that warns users about what's about to happen. Use language such as:
• "Now we're going to move into…
• "In your next inhale…"
INTROS
There are different types of voice introduction. We can optimise experience if we recognise actions users is doing for the first time.
Examples:
• First time user plays any yoga workout
• Introducing a selected yoga workout
• Getting into yoga mindset
The result
All these findings were captured in a guide document to complete voice recordings for yoga programs in the Nike Training Club app. These guidelines have helped the business establish a more formalised way of recording voice overs, and cater for translation in different languages.